The  Multigas Detector
The toughest kid on the block.
Super-durable, competitively-priced, personal multigas detector. The new Multigas Detector includes an optional MotionAlert and InstantAlert feature, triple alarms, and IP67 and is  certified.
The Multigas Detector brings multigas detectors to a new level by offering a combination of features you won't find in other models. The  Multigas Detector is the only  multigas detector with an optional MotionAlert feature if a user should become disabled due to unforeseen hazards or injury. When enabled, the MotionAlert feature will activate if the instrument does not detect any movement for 30 seconds, and is ideal for confined space entry applications. This unique multigas detector function can be deactivated by the user. This unit's InstantAlert feature also allows users to manually alert other people about a potentially hazardous situation.
The Multigas Detector is as tough and functional as it looks, offering  ribbed rubber housing for secure grip and the best durability. A high-contrast display and three large, rubberized buttons make easy operation sure in low-light conditions. The rubber over-molded housing is easy to grip, provides unsurpassed durability, is rated IP67 against dust and water, and passes a 10+ foot drop test. The Multigas Detector unit is equipped with a 95+ dB audible alarm and ultra-bright alarm LEDs on both its top and bottom for maximum visibility. Vibrating alarm and data logging are standard features in this very competitively-priced unit. The Multigas Detector is Galaxy Systemcompatible for calibration and record keeping; a QuickCheck Test Station for fast, easy bump testing is also available. Data logging is a standard feature; the  4 Multigas Detector is MSA Link Software-ready.
Features
• MotionAlert feature plus audible,
visual, and vibrating alarms
• InstantAlert feature to sound a
manual alarm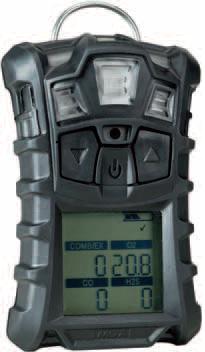 • Most rugged instrument available
• Large buttons for easy operation
• 16-hour battery run time when
fully charged
• Tested to IP67
• Global approvals
• Economically priced
• MSA Link Software ready

Applications
• Oil, gas, and petrochemical
• Confined spaces
• Fire service
• Utilities and telecommunications
• Municipal works and waste water
• Civil engineering

Certifications
Europe: ATEX II 2 G EEx ia d IIC T4, Tamb= -20 to 50º C
UL, Class I, Div. 1, Groups A B, C, D,
Class II, Div.1 Groups F & G. T4, Tamb= -20 to 50º C
CSA, Class I, Div. 1, Groups A B, C, D,
Australian & New Zealand: IEC Ex ia d I/IIC T4,
ANZEx ia s I/IIC T4 (Zone 0)
Click here to order the multigas detector!