T-Mobile Nederland heeft een contract afgesloten met Lyfo voor exclusieve distributie van Lyfo.NET in Nederland. Zakelijke klanten van T-Mobile kunnen met de TwinSIM-oplossing terugvallen op alle mobiele netwerken in Nederland. De diensten van T-Mobile worden via het T-Mobile netwerk afgewikkeld, maar als het nodig is wordt direct én automatisch geschakeld naar een ander alternatief mobiel netwerk. Dit kan onder andere gebeuren in lastig bereikbare gebieden of tijdens storingen.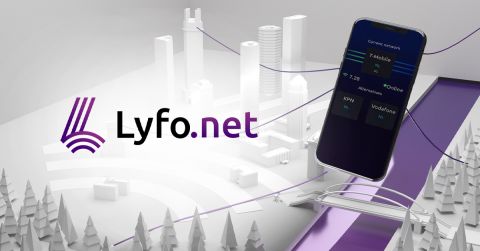 Alle netwerken ter wereld
Dankzij Lyfo.NET worden de verbinding en de dienstverlening van T-Mobile automatisch geschakeld tussen alle beschikbare mobiele netwerken. Een (tweede) simkaart met premium roaming geeft toegang tot vrijwel alle mobiele netwerken ter wereld. Terwijl de smartphone van de klant primair verbonden blijft met het netwerk van T-Mobile of met een affiliatie roaming netwerk in het buitenland, scant Lyfo.NET alle andere beschikbare netwerken voor beide SIM-kaarten. Het berekent voortdurend de beste primaire en back-up connectie, zonder daarbij veel batterij te gebruiken.
Automatisch goede verbinding
Wanneer de primaire verbinding van de gebruiker onder een bepaalde afgesproken kwaliteitsniveau zakt, schakelt Lyfo.NET op de smartphone onmiddellijk de back-up verbinding in en verbindt het binnen 100 milliseconden met het beste alternatieve beschikbare netwerk op dat moment via de Lyfo.SIM. Wanneer nodig en van toepassing schakelt de verbinding ook weer automatisch terug. Hiermee worden de gebruikskosten in de hand gehouden, omdat niet permanent al het dataverkeer in Nederland wordt geregeld via roaming.
Bron: tbmnet.NL