Descriptie
De nieuwe Mio 2008 kaartsoftware beschikt over een duizendtal driedimensionale oriëntatiepunten en een digitale kaarttechnologie om het lokale landschap weer te geven. Bestuurders krijgen hierdoor een reëel 3D-beeld van de weg.
Tweedelige interface
De Mio C620 en C620t beschikken over de nieuwste Tele Atlas-kaarten (2007.7) met tweedelige interface op een 4,3 inch breedbeeldscherm. Het tweedelige scherm, dat door de C320 en C520/C520t werd geïntroduceerd, biedt de gebruiker de mogelijkheid om naast de volledige kaart ook plaatselijke 'points of interest' en belangrijke reisinformatie weer te geven. Hieronder valt bijvoorbeeld de weergave van de drie volgende kruispunten en de resterende tijd of afstand tot de bestemming. De C620 en C620t bieden de ultieme GPS-functionaliteit en –voorzieningen. Tevens zijn de systemen binnen enkele seconden klaar voor gebruik dankzij de accurate positionering door de SiRFstarIII GPS-technologie.
TMC-rapporten en flitscamerawaarschuwingen
De nieuwe productlijn van Mio biedt geïntegreerde Traffic Message Channel (TMC)-rapporten en gratis meegeleverde flitscamerawaarschuwingen. Net als bij oudere modellen kunnen Mio-gebruikers de nieuwste database met snelheidscamera's gratis downloaden tot een jaar na de registratie en kunnen ze hun eigen cameralocaties toevoegen om ze via het internet te delen met andere Mio-gebruikers.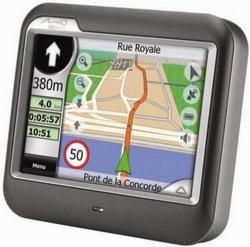 Features:
Kaarten
• Intuïtieve kaartweergave met 3D-oriëntatiepunten en digitale hoogtekaarten
• Betere oriëntatie en snellere herkenning van de kaartlocatie versus de reële locatie
• Echte 3D-kaartweergave
• Gebruiksvriendelijke interface
• Tweedelig scherm voor info, POI's, TMC, route, mp3's en telefoonboek
• Mp3 afspelen/stoppen tijdens navigatie
• Eén klik om inkomende oproepen aan te nemen of zelf te bellen
• Eenvoudige navigatie naar Photo Viewer
• Verbeterde weergave van wegwijzers
• Verbeterde POI's langs de route
• TMC-weergave langs de route
Toestel
• Navigatiescherm van 4,3": breed en gemakkelijk leesbaar
• Handsfree bellen met ingebouwde draadloze Bluetooth-technologie en microfoon
• Meegeleverde flitscamerawaarschuwingen met gratis updates
• Snelle, nauwkeurige positiebepaling dankzij SiRFstarIII GPS-technologie
• Alles-in-één houder: voeding en TMC (TMC enkel voor C620t)
• Entertainment voor onderweg: geïntegreerde mp3-speler en Photo Viewer om uw favoriete muziek en foto's weer te geven met een en hetzelfde toestel.