Description / Features Senses Silent Fanless Industrial Panel PC
Senses silent fanless industrial panel PCs utilise the Intel 852GM + ICH4 chipset and provide TFT LCD sizes of 10.4", 12.1" and 15.0". The low power Intel Mobile processor and fanless robust chassis with IP65 rated front panel make these models ideal as fast and stable human machine interfaces (HMI) for SCADA applications. Manufactured from selected high quality industrial components, this model comes with a 12.1" touchscreen display, an anti-vibration mounted storage drive and a mini PCI slot for WLAN applications. Our production processes are controlled under ISO 9001:2000 and every system undergoes a 4 hour diagnostic burn-in prior to shipment. Systems can be tailored to meet your exact requirements. Each Industrial Panel PC comes with a 2 year warranty.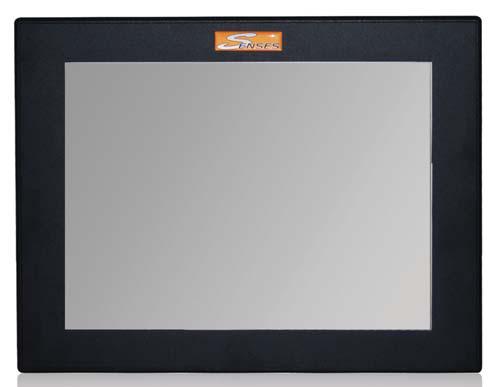 Specifications Senses Silent Fanless Industrial Panel PC
Hardware specification CPU: Intel Celeron M ULV 1GHz onboard
Main memory: 1GB SODIMM DDR RAM
Chipset: Intel 852GM + ICH4
Video: Onboard integrated graphics controller Intel 852GM GMCH
Audio: AC'97 codec audio
LAN: Realtek RTL 8100C PCI Bus 10/100M Base-T
Watchdog Timer: 255 levels
BIOS Award 4Mbit
Storage 80GB 2.5" Western Digital Scorpio IDE HDD 7200rpm
or 8GB Solid state drive on standard systems
Support for CompactFlash card type II for ATA interface
Please contact us for any other storage or backup requirement
System expansion Mini PCI x 1 (type III socket for wireless module / WLAN card)
System options Senses 5120S-80GB : With 12.1" Touchscreen LCD, 80GB hard disk drive (5 to 45°C)
Senses 5120S-8GB : With 12.1" Touchscreen LCD, 8GB solid state drive (-10 to 55°C)
Supported OS Windows XP, Windows 2000 (available via Windows XP Pro downgrade rights),
(Operating System) Windows XP Embedded, Windows CE.NET 5.0, Linux Kernel 2.6
If your desired operating system is not listed, please contact us.
Interfaces (bottom) VGA: DB-15 connector x 1
Serial: COM1, COM2 + COM3 (RS-232 x 2, selectable RS-232 / 422 / 485 x 1)
PS/2 mini DIN for keyboard / mouse
USB 2.0 x 2
Audio Line-out x 1
LAN RJ45 x 2
LEDs and switches (bottom) System ON/OFF power switch
LCD panel Display type: 12.1" SVGA TFT LCD
Max. resolution: 800 x 600
Brightness : 450 nits
Viewing angle: 130° (H), 120° (V)
Touchscreen Resistance type
Mechanical Construction: Stainless steel chassis with aluminium front bezel
Front panel: IP-65 rated resistant front panel
Colour: Black (custom colours available for large orders)
Dimensions, Panel: 332.0(W) x 267.0(H) x 8.0(D) mm
Dimensions: Case: 307.8(W) x 242.8(H) x 61.5(D) mm
Gross weight: Approximately 5.4kg
Package gross weight: Approximately 8.0kg
Mounting orientation Panel mount (kit supplied as standard)
VESA (75 x 75, 100 x 100 mm) / Wall mount (kit optional)
Desktop mount (kit optional)
Environmental operational Temperature: 5 to 45°C (with hard disk drive option)
-10 to 55°C (with solid state drive option)
Humidity: 10 to 90% at 40°C non-condensing
Vibration: 1.3G, 5 ~ 500GHz, random for 2.5" HDD or solid state drive
3.0G, 5 ~ 500GHz, random for CompactFlash card
Please contact us to discuss extended or harsher environmental specifications
Environmental storage Temperature: -20 to 60°C
Humidity: 5 to 90% at 25°C non-condensing
Main board power Onboard DC: +16 ~ +28VDC fuse power protection
input details
External power adapter Power supply (optional)
Power rating: 72W
Voltage wide range: 90 - 264 VAC
Frequency: 47 - 63 Hz
Nominal voltage output: +24V DC
Regulation voltage output: 23.52V ~ 24.48V
Maximum input current: 1.5A @ 115VAC, 0.75 @ 230VAC
Electromagnetic EN55022 Class A
compatibility (EMC) EN55024
Electrostatic discharge immunity test (EN61000-4-2)
Radiated, radio-frequency, electromagnetic field immunity test (EN61000-4-3)
Electrical fast transient/burst immunity test (EN61000-4-4)
Surge Immunity test (EN61000-4-5)
Immunity to conducted disturbances induced by radio frequency fields (EN61000-4-6)
Voltage dips, short interrupts and voltages variations immunity tests (EN61000-4-11)
Limits for harmonic current measurement (EN 61000-3-2)
Limitation of voltage changes, voltage fluctuations and flicker (EN 61000-3-3)
Amplicon own a fully equipped EMC facility and can provide many additional tests to
meet your requirements.
Safety EN60950
CE Marked