Functies:
-CDMA & WLAN or CDMA & GPS Intergrated
-Intel Bulverde CPU(PXA270 520MHz)
-3.5 Inch TFT LCD
QVGA(240 x 320)level 260,000 Color
-2.0 Mega pixel CMOS type Camera
- High compatibility &
expandability with Windows CE 5.0
- ROM 128MB RAM 64MB
each extend to 512MB, 128MB
- Bluetooth, USB, RS-232C Mini-SD Slot,
IrDA support extend port
Features
- The latested CPU and OS provide stable & fast function
Windows CE 5.0 with high compatibility and built in Intel PXA270 520MHz CPU brings fast & stable data process.
- Provide user friendly environment for everyone.
User-oriented convenience has been upgraded such as convenient viewing mode and interface for those who familiar with PC screen navigation button with 4 direction-movements. 'Hold' button for preventing abnormal program executions.
- Support integrated communication environment
CDMA & WLAN or CDMA & GPS communication is available so that communication environment will be decided by customer's choice. The telephone, data communication, GPS functions can be carried out according to communication environment.
- Anytime, Anywhere readiness
The luminescent key pad, strong and durable antenna, and large LED screens are carefully designed and the highest anti-shock technology is applied to stand woeful environment.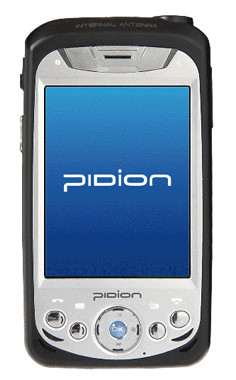 Specificaties
Sections
Specifications
CPU
Intel PXA270 520MHz
OS
Windows CE 5.0
MEMORY
RAM : 64MB (Up to 128MB)
ROM : 128MB (Up to 1GB)
DISPLAY
3.5inch TFT-LCD, 240x320pixel, 26M Color
RADIO
SWING (CDMA & WLAN Integrated)
INTERFACE
USB Client, RS-232C, IrDA, SD Slot (SDIO Support), Bluetooth
CAMERA
2MP CMOS type Camera, Flash
BATTERY
Rechargeable Lithium Polymer Battery (1300mAh / 2600mAh)
ANTENNA
Internal : Bluetooth
External : CDMA, WLAN
ENVIRONMENT
12times drop 1.2m to concrete
AUDIO
Speaker & Mic integrated Headset jack
KEYPAD
9key
OPERATION
TEMPERATURE
4° to 122° F/-20° to 50° C
(or better depending on the application)
RELATIVE
HUMIDITY
5% to 90% RH noncondensing
MP3
MP3