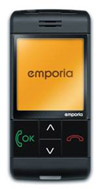 Descriptie

Oudere mensen of slechtzienden hebben vaak problemen met gewone GSM's omdat deze niet duidelijk of eenvoudig genoeg zijn. Ofwel zien ze de toetsen niet, horen ze de ringtoon niet of zijn ze op kritische momenten niet altijd in staat om hulp te bellen. Emporia, een Zwitsers bedrijf, biedt deze mensen een zeer goede oplossing: de Emporia Life GSM.

Het is voor mensen zonder nood aan extra's; geen MP3 of Bluetooth, maar vooral duidelijkheid en gebruiksgemak. Zo meldt een oranje lichtje onmiddellijk een oproep. Ook mensen met een hoorapparaat kunnen dit toestel makkelijk gebruiken, vermits er geen interferenties zijn tussen beide toestellen.
Eenvoud in gebruik
Kort samengevat biedt dit toestel meer veiligheid, eenvoud in gebruik, grote toetsen en display, sterke luidspreker, hoog belvolume en een noodfunctie.
Specificaties:

• dualband GSM 900/1800 of 850/1900
• afmetingen: 112 x 55 x 26 mm
• gewicht: 152g
• batterij: Li-Ion 3.7v / 1000 mAh
• standby tijd: tot 150 uren
• beltijd: tot 180 minuten
• interne antenne
• display: 2.7" FSTN 128 x 160 pixel mono
• slider
BQYE354sgCKa8H9qU0sKCA==