Met de introductie van de Xplore iX104 tablet PC biedt Comm-co een oplossing om de mobiliteit en productiviteit van werknemers te verhogen, omdat zij niet meer afhankelijk zijn van applicaties en data op een desktop PC op kantoor.
De iX104 is een volwaardige pen tablet PC met alle functionaliteiten, maar is zeer robuust en dus uitermate geschikt voor gebruik 'in het veld'. Kort samengevat is dit model krachtig, mobiel en veelzijdig. De Xplore tablet PC is ontworpen voor én getest op militaire standaarden en overleeft een val op beton, extreme warmte, water en stof. Een ideale volwaardige computer die tegen een stootje kan! De Xplore kan gebruikt worden om werkopdrachten via GPRS/UMTS te zenden. De monteurs noteren hun uren en verbruikt materiaal met als resultaat dat de informatie direct inzichtelijk is.
Ook binnen beveiligingsbedrijven kan de Xplore tablet PC ingezet worden als mobiele dataterminal. Werkopdrachten, meldingen, etc. worden op de unit gemeld en bijgehouden. De Xplore kan diefstalveilig worden ingebouwd, zodat deze bij calamiteiten niet uit de auto kan worden gestolen. De unit krijgt de GPS coördinaten van een externe ingebouwde ontvanger in de auto.
Door de Windows omgeving van de Xplore is alle informatie direct in te passen in de bedrijfsprocessen.
Het beeldscherm en toetsenbord
Met een druk op de knop kan de gebruiker bepalen of het beeldscherm verticaal of horizontaal gebruikt wordt. Ook kan men kiezen uit meerdere mogelijkheden voor invoer van gegevens: via het toetsenbord of een scherm dat geschikt is om met de vingertoppen te bedienen.
Standaard heeft de pc bovendien verlichte tiptoetsen waar naar keuze de voor de gebruiker belangrijkste functies aan te koppelen zijn.
Voor elke toepassing heeft Xplore een oplossing. Zo zijn er speciale spanningsomvormers, houders, accu's, kabels, pluggen enzovoorts leverbaar om de
pc in te passen in uw technische infrastructuur. Ook zijn er allerlei draagmogelijkheden.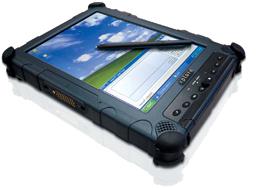 Specificaties:
Algemene eigenschappen

Merk

Psion teklogix Xplore

Afmetingen

283.9mm x 209.3mm x 40.8mm

Gewicht

2,1 kg

Besturingssysteem

Windows XP Tablet edition

Processor

Intel Pentium M 733 - ULV @ 1.1 GHz

Ip value

IP54 tot IP 67

Val specificaties

1,2 meter op beton

Batterij

7.4V @ 5700mAh (42Whr)

Schermformaat

10.4" TFT XGA (1024x768), 16M colors

Kleur

Ja, 32-bit True color

Geheugen

ROM

512 MB

RAM

40 GB harddisk
Temperaturen

Werktemperatuur

-20 tot 60 graden

Accessoires

Touchscreen

Ja

Toetsenbord

Barcode scanner

Nee

Infrarood

Ja

Bluetooth

Nee

GPS

Nee

Camera

Nee

WLAN/WIFI

Optioneel geïntegreerd

GSM/GPRS

Nee
Dit item is ook aanwezig in onze shop:
http://www.comm-co.com/jm/index.php/Tablets/Xplore-iX104-tablet-PC.html
wmJKoiUi7rURX6r0q7hD1/yUdwBWcBTc