Inmarsat Capsat® Fleet55 High-speed static satellite phone
The small form factor of the radome antenna makes Capsat® Fleet55 satellite phone particularly well suited for smaller vessels like yachts, patrol boats and fishing vessels. This service network has already proven its high standard in serving Sailor Fleet customers.
The basic Capsat® Fleet55 satellite phone package consists of a transceiver and an antenna together with a handset and cradle. The terminal is an integrated communication center providing links to phones, fax machines, and even shipboard computer networks. With its lightweight and compact transceiver and antenna, the Capsat® Fleet55 sattelite phone terminal is quick and easy to install. The tracking antenna is 68 cm high, has a diameter of just 57 cm and weighs a mere 18 kg/40 lbs.
Every system is supplied with a CD-ROM containing Sailor's FleetCP configuration program. With this user-friendly software you could easily configure the system from a standard PC. Alternatively, the set-up could also be done through the standard handset.
The Capsat® Fleet55 satellite phone terminal could act as a hub for communication via desktop phones, payphones, DECT cordless phones, and fax machines. Plus a whole array of commercially available ISDN applications could provide unprecedented quality and speed of voice, fax and/or data communications.
Together with an IP router, the Capsat® Fleet55 satellite phone terminal could integrate the vessel 24 hours a day with onshore management systems via the Web, including full e-mail and Internet services from all shipboard PC workstations.
Inmarsat's Mobile Packet Data Service is a digital communication technology that sends data in discrete packets through channels shared by other users. Individual users are charged only for the amount of data they actually send, not for the time the channel remains open. This means that they can stay on-line all the time while significantly reducing the costs of actual transmissions.
MPDS is the most economic and convenient solution for e-mail, small to medium size file transfer, and constant online access to corporate intranets, extranets, applications, databases, and Internet services. MPDS could transform a ship into another client on the operator's world-wide network, bringing it within instant reach 24 hours a day, seven days a week.
The Capsat® Fleet55 sattelite phone terminal means that LANs (local area networks) and VPNs (virtual private networks) take on a whole new meaning, encompassing the globe every minute of every day. MPDS enables LANs and VPNs to offer ships at sea constant access to knowledge bases, filing systems, notice boards, communication media, and even e-commerce.
Position reporting, electronic charts, weather reports, maintenance schedules and automatic equipment, and machinery surveillance reports could now be transmitted and received as if the ship was in the office next door. The Capsat® Fleet55 terminal also enables direct ISDN connection, for example for transmission of larger documents and files, video conferencing, web cams, etc.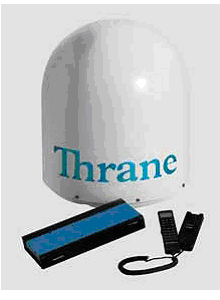 Inmarsat Capsat® Fleet55 High-speed static sattelite phone
Internet (Up to 64K MPDS, 64K ISDN)

E-mail

Fax

Voice, global coverage

VPN & LAN connections

Video Conferencing

Position Reporting

Onshore Management Systems

60 cm Antenna