Description DX800 Serial Device router
The Magnum DX800 delivers secure multi-protocol networking in a compact, rugged package purpose-built for power substations and other harsh environments. With mounting options for panels, DIN-rail or 19" racks, the DX800 provides deployment flexibility for wherever a mix of serial and Ethernet-based connectivity is required.
Dual fiber Ethernet connectivity coupled with Rapid Spanning Tree and IP routing capabilities ensure resilient
backbone communications. The DX800 provides full perimeter protection with IP firewall and IPsec VPN features when used as an edge router/terminal server at remote critical facilities. Per-session encrypted SSL capabilities permit fine-grained security extended to end-point connections when used as a distributed terminal server in larger installations.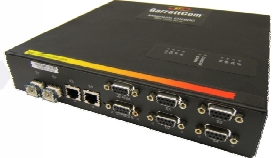 Features DX800 Serial Device Router:
• Hardened for harsh environments
• IEEE 1613 / IEC 61850-3
• Serial and Ethernet interfaces
• 4 RS232/RS485 ports software selectable
• 2 10/100 BaseTX RJ45 Ethernet ports
• 2 100FX SFP/SFF Ethernet ports multi/single mode
• Multiprotocol support
• Async and SCADA to TCP/IP
• Ethernet, TCP/IP
• Ethernet switching
• VLANs
• Prioritization
• RSTP
• IP routing
• DHCP service
• Serial Multipoint and Multimaster topologies
• Cyber-Security protection:
• Serial SSL
• Secure HTTP
• IPSec encrypted VPNs
• Ethernet port security
• TCP/IP firewall
• Serial port SSL
• Per Serial port VLANs
• Web GUI, XML
• SNMP management
• Built-in protocol analyzer
• AC and DC, wide range of power options
• No fans or moving parts