Features SED-2120 Video Streaming Serverr:
• MPEG-4 ASP compliant compression
• CIF up to Full D1 resolution at 30/25 FPS
• Dual MPEG-4 video stream output via LAN and WAN (PPPoE supported) ports at the same time
• QoS enabled (L2, L3) video streaming (UniCast/MultiCast)
• Digital time code embedded
• Motion detection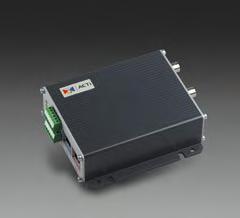 Transmit analog image into digital data with ultra high resolution
The SED-2120 is a high resolution, Ethernet (LAN and WAN) ready digital video transmission device.
It is specially designed to meet the increasing need for high quality, high reliability, real-time video streaming used in the field of surveillance and security.
The SED-2120 is based on Arm9 SoC, MPEG-4 ASP compliant compression technology to compress the video stream and transmit them via LAN and WAN. It supports automatic/manual frame rate control for concurrent video stream accessing in different bandwidth. The SED-2120 also provides RS-485 and digital I/O data transmission over Ethernet for product integrators or solution providers. With this system, users can build digital remote surveillance systems easily. SED-2120T model can support industry temperature from -30 to 70 °C (-22 to 158°F).