REF. 1200 DECT KIT 1W WIRELESS
DECT (Digital Enhanced Cordless Telecommunicatios). Fermax has developed the first
wireless audio door entry system with DECT technology. This system, designed for
houses, businesses, offices, warehouses, shops, companies...uses advanced DECT
technology for communication between the outdoor panel and the home, so it does
not need any installation between the two. As well as saving on installation, this
equipment has other advantages. THE FERMAX DECT DOOR ENTRY SYSTEM has a
double use: 1. AUDIO ENTRY SYSTEM, allowing communication with the outdoor panel and the opening of the door. 2. TELEPHONE to receive and make outside calls using the existing telephone line. The home terminal is a wireless phone that allows the user complete mobility and freedom to attend to visitors and outside calls from
anywhere (in the garden, the swimming pool, the kitchen, the warehouse, the back
room of a shop, the second floor of the house, the garage etc.) using the same
telephone. The equipment is compatible with any DECT telephone (GAP compatible on the market).
It has: - HANDS-FREE functioning. Very useful in offices, receptions, etc. - The ringing tone can be programmed to distinguish whether the call is coming from the outdoor panel or from outside. - Extras: telephone number book with search, automatic receiver lifting, redial, secrecy mode, emergency call, on-screen coverage indicator, low battery indicator, multi-language function, 9 programmable tunes, call identification and missed calls, internal communication with the opportunity to transfer calls. This DECT WIRELESS AUDIO ENTRY KIT includes: outdoor panel, power supply, telephone base, telephone with holding grip, plug-in power supply and batteries for the telephone.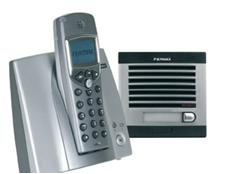 TECHNICAL SPECIFICATIONS
DECT (DIGITAL ENHANCED CORDLESS TELECOMMUNICATIONS) Advanced digital technology for transmitting information via
radio (without wires).
Characteristics:
• Operating frequency: 1880-1900 MHz.
• Ensures privacy of transmission. The information is encrypted so it cannot be intercepted by any device.
• Free of interference.
• Dynamic channel selection to ensure the best audio quality at all times.
HOW DOES IT WORK? answer, press "lift receiver" (green button) To open the door, press asterisk To activate another
device (a light, a second door, etc), press 5 It is possible to expand the installation with a second outdoor panel or
secondary telephones ref 1206
INSTALLING THE KIT
• The range or operating distance of the kit is approximately 30 metres, depending on the characteristics of the
installation (measured between the outdoor panel and the telephone base).
• It is recommended that the telephone base is positioned as close as possible to the outdoor panel (e.g. by the entrance
door, the hall etc.)
• The outdoor panel must be kept away from metal parts.
Size of product when packed: 36x25x7
Weight: 2,3061 kg